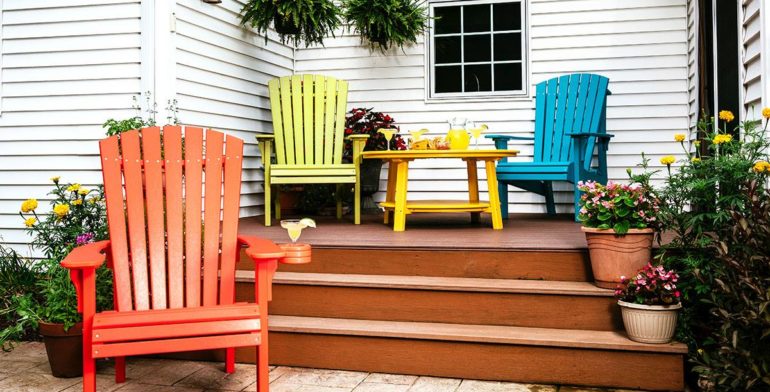 Quality Recycled Outdoor Furniture
The weather is starting to warm up and the spring flowers are starting to bloom — it's the perfect time to think about patio furniture.  One of the hottest trends is quality recycled outdoor furniture and Fine Oak Things is proud to offer our customers these exceptionally crafted, and environmentally friendly, products.
Quality Recycled Outdoor Furniture
We believe in building quality, long-lasting outdoor furniture, and this is why we use Luxcraft products. Luxcraft has been building quality outdoor furniture for decades and their products stand the test of time. Unlike their competitors, who typically offer a 5-10 year limited warranty, Luxcraft stands behind their products with a residential limited lifetime warranty.
Luxcraft's products are made from high density polyethylene (HDPE) derived from post-consumer plastic bottle waste such as milk containers. The plastic containers are ground, washed, and scrubbed to eliminate contamination and ensure a purity level of 99% HDPE.
During the colouring process, the poly is UV treated to protect against fading and is warrantied for 50 years. The materials are then compounded into rigid board material, resulting in a finished product that contains over 90% recycled post-consumer waste by weight.
Next, Luxcraft's expert Amish craftsmen use the recycled materials to handcraft beautiful tables, chairs, swings, and gliders. Our builders have been making outdoor furniture since the 1970s, and they use the same process when making recycled patio furniture as they do for their wood furniture.
Our builders will craft quality products with no waste — any shavings and/or cut-offs during the manufacturing process are sent back to the factory to be reused so nothing is wasted.
We know you will love your handcrafted, recycled patio furniture.
Adding Value
We do not outsource the delivery and assembly of our products. As part of our service commitment to our customers, we are pleased to arrange assembly of your products upon delivery, at no extra charge.
For more information please visit our showroom, or give us a call.