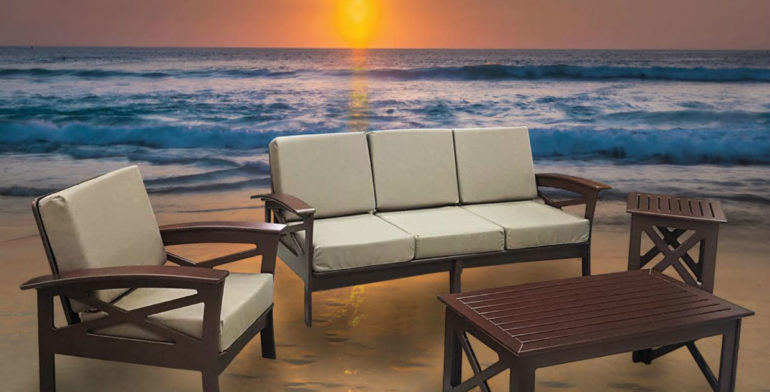 New Patio Furniture for 2018
New Patio Furniture for 2018!
The clocks have sprung ahead and Spring is officially here – someone please tell the weatherman!  It's time to showcase the new patio furniture for 2018!  As with all of our recycled plastic furniture, these additions are virtually maintenance free and can be left outside all year round.  Finally outdoor furniture that doesn't need storage, just imagine the time you'll save!
Built in Centre Tables for Swings & Gliders
The old design of the triple swings and gliders had plenty of seating for three, but to enjoy a spot to rest your drink, you would have had to buy a centre table.  No more!  Our new design features a fold down centre seat with built in cupholders.  It's that finishing touch you've always wanted, now at no extra charge!  A pin locks the centre seat up so it won't come down unless you want it to.
Premium Woodgrain Finish
We've had plenty of people tell us about the struggles they've had restaining their old wood Muskoka chairs.  They love the style of our furniture, but really want that wood look without all the hassle.  The solution is our new Antique Mahogany finish, now a standard option on all Recycled Patio furniture.  This is a premium finish designed to look and feel just like wood, right down to the wood grain and colour variations.   Antique Mahogany is available either as a standalone finish or combine with a black base, so you'll get the perfect look for your home or cottage.  Since it is a premium finish, there is an additional 10% cost for either option.
Canadian Supplier
Beaver Springs is a Canadian manufacturer of recycled plastic patio furniture whose line complements our existing line.  Available in 10 colours and backed by a 10 year warranty, with the same maintenance free recycled plastic.  We're proud to be able to add them to our product lineup, visit our showroom to see the pieces in person.